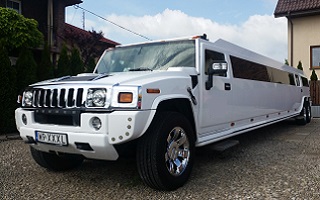 Few cars have made as bid an impact when it was launched as the Hummer. The sheer size and magnitude of the Hummer was something unseen before. It is simply a beast of a car.  Now converted, stretched into a civilian modified Limousine, we've dubbed it the "King of the Road". The Hummer is a different kind of animal, and regardless of your reason of hiring it, airport transfer, wedding or just cruising the streets of Warsaw in your own pre party, you will not be disappointed.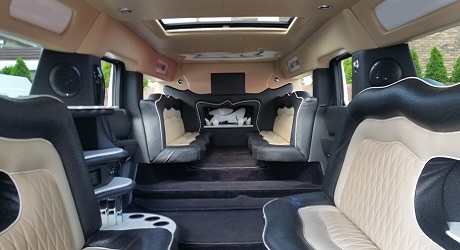 Super cars aside, there are not many that would make it onto a person's bucket list, but the Hummer would or at least it should. Now it is time to get it ticked off.
---
Hire cost for the H2 Hummer Limousine: €260
(Modlin airport Transfer €340)
Each additional hour €200

Price Includes:
60 minutes city or transfer from the airport to your hotel
Chilled bottle of cava x3

The H2 Hummer Stretch Limousine
•  Pearl White Color
•  Lighting lasers with Dimmer controlled mood lights
•  Flat Screen TVs and theater Surround System
•  Mirrored Ceiling with Floor and Bar lights
•  20 Leather seats
•  Optic champagne cocktail Bar

Extras
Stripper €140
Cava €14
Beer €3

For champagne and spirits, please send a request.

*Please note, this price includes the hire of the limousine and chauffeur, insurance and mileage per hour. All prices, subject to change do include VAT.
---
Need to a minivan or minibus airport return, please get in touch to get a quote.
Email –
info@limousinetransfer247.com
Call us –
+44 781 636 2801