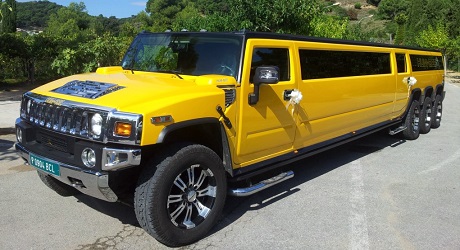 Jaws dropped when the H2 Hummer hit Spain, and we didn't think things could get any better, but in a world where things are getting smaller, slimmer and more streamlined, the Hummer keeps moving against the trend.  Bigger, Meaning, Longer, Wider and lot Better. Basically, the new Humbee Hummer is at the Top of the food chain.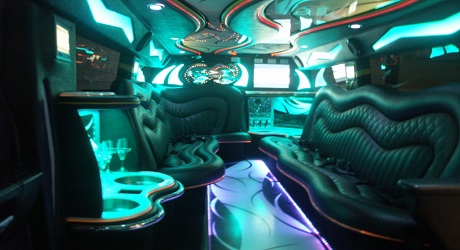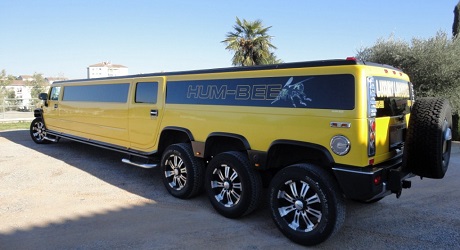 It goes without saying, that as the biggest Hummer in Barcelona, Spain and maybe even Europe, it is perfect for anything. Just name the occasion, Airport pickups or city Ride.
---
Hire cost for the H2 Hummer Limousine: €350
Each additional hour €300

Price Includes:
60 minutes city or transfer from the airport to your hotel
Chilled bottle of cava x3


Hummer MAX Limousine Specs
•  Yellow colour
•  Lighting lasers with Dimmer controlled mood lights
•  Theatre Surround System
•  Mirrored Ceiling with Floor and Bar lights
•  19 Leather seats
•  Optic champagne cocktail Bar

Extras
Male/ Female Stripper €180
Bottle of cava €20
Beer €3

For champagne and spirits, please send a request.

*Please note, this price includes the hire of the limousine and chauffeur, insurance and mileage per hour. All prices, subject to change do include VAT.

*Due to regulatory changes in Spain, the hummer can only carry 8 passengers for airport transfers
---
Need to a minivan or minibus airport return, please get in touch to get a quote.
Email –
info@limousinetransfer247.com
Call us –
+ 44 781 636 2801