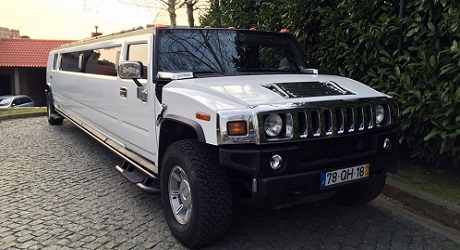 It goes without saying that we all thought the Hummer was mad when seeing it as a military vehicle, now as a stretch limousine it's like the inmates of taken over the asylum. It's pure madness but in a good way. The Hummer should be considered a luxury limousine of epic proportions and a must for anyone coming to Porto.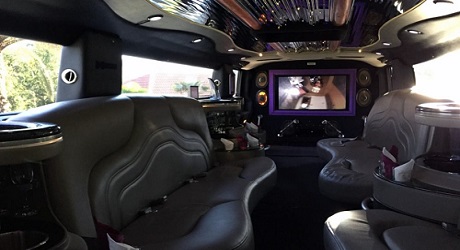 Few Limousines need less introduction than the legendary Hummer. It is in short a beast and so perfect for anything and everything. Airport transfer and city rides are turned into something magical in this limousine.
---
Hire cost for the Hummer Limousine: €320
Each additional hour €220
Price Includes:
60 minutes city or transfer from the airport to your hotel
Chilled bottle of cava x1
The Hummer Stretch Limousine
•  White porcelain colour
•  Laser lights with controlled mood lights
•  Flat TV and Theater Surround System
•  Mirrored Ceiling with disco floor lights
•  16 Leather seats
•  Optic champagne cocktail Bar
Extras
Male/ Female Stripper €220
Bottle of cava €20
Beer €4
For champagne and spirits, please send a request.
*Please note, this price includes the hire of the limousine and chauffeur, insurance and mileage per hour. All prices, subject to change do include VAT.
*Due to regulatory changes in Portugal, the Hummer can only carry 8 passengers for airport and city transfers.
---
Need a minivan airport return, please get in touch to get a quote.
Email –
info@limousinetransfer247.com
Call us –
+44 781 636 2801