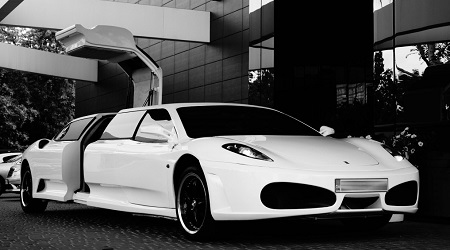 It's not photoshop. The Ferrari has been indeed been stretched, pimped and turned into a limousine. We've long loved the Italian supercar, its style, passion, engine raw and for many of us, it's an unobtainable fantasy car. Well, not anymore.
On the streets of Odessa, you can take a spin in this legendary limousine. Perfect for city rides, transfers or just cruising around Odessa in your own private party. In terms of quality, the Ferrari limousine ticks all the right boxes.
---
Cost for the Ferrari Stretch Limousine: €210
Each additional hour €150
Price Includes:
60 minutes city ride from anywhere in Odessa
The Ferrari Stretch Limousine
• White pearl colour
• Lighting lasers with dimmer controlled mood lights
• Theatre Surround System
• Disco floor, Disco ceiling
• 6 Leather seats
• Optic champagne cocktail Bar
Extras
Male/Female Stripper €120
Sparkling wine €10
Beer €2
*Please note, this price includes the hire of the limousine and chauffeur, insurance and mileage per hour. All prices, subject to change do include VAT.
---
Need a minivan or minibus airport return, please get in touch to get a quote.
Email –
info@limousinetransfer247.com
Call us –
+44 781 636 2801