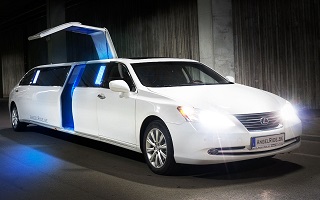 It's fair to say the Super Lexus Stretch isn't that common on European soil. Lexus let nothing to the imagination in the design of this limousine. Pure, unfiltered luxury. The jet doors leave you purring and at 9 meters long, there is more than enough room to stretch out and enjoy.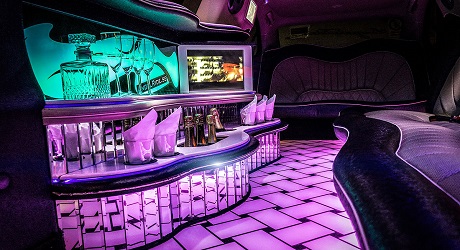 In terms of style, the Lexus is a top draw!!, whatever your reason for hiring this limousine, airport shuttle or private city ride, it will turn heads and you will feel special.
---
Hire cost for the Lexus Limousine: €280
Each additional hour €260
Price Includes:
Chilled bottle of cava x1
The Lexus Limousine
•  Massive 18" Rims
•  Glossy White colour
•  Airliner "Jet Doors"
•  Sky ceiling
•  Mirrored Ceiling with Floor and Bar lights
•  Comfy leather sofa
•  Fiber optic lighting
•  Intercom and Privacy divider
Extras
Lexus Hostess €160
Sparkling Wine €60
Champagne €120
For spirits, beers or anything else, please send a request.
*Please note, this price includes the hire of the limousine and chauffeur, insurance and mileage per hour. All prices, subject to change do include VAT.
*Due to regulatory changes in Sweden, the Lexus can only carry up to 8 passengers.
---
Need a minivan or minibus airport return, please get in touch to get a quote.
Email –
info@limousinetransfer247.com
Call us –
+44 781 636 2801