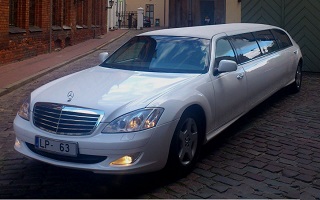 The Mercedes S Class Stretch Limousine is one of the most recognisable limousines on the market. It is classic in its look and carries with it the Mercedes stamp. Whilst not as loud as the Hummer, it has a different style and grace that is more suited to the professional clientele.
For airport transfer and pre-party city rides the stretched Mercedes S Class is perfect.
---
Hire cost for the Mercedes S-class Stretch: €280
Each additional hour €200
Price Includes:
60 minutes city or transfer from the airport to your hotel
The Mercedes S Class Long
•  White pearl colour
•  8 Leather seats
Beer €3
For champagne and spirits, please send a request.
*Please note, this price includes the rental of the limousine and chauffeur, insurance and mileage per hour. All prices, subject to change do include VAT.
---
Need a minivan or minibus airport return, please get in touch to get a quote.
Email –
info@limousinetransfer247.com
Call us –
+44 781 636 2801